Bottom line - You have to get used to the NR70V, but if you can live with it, it's IMHO the best PDA you can buy in the moment (please, no flames from the WinCE world, this is a PalmOS site <g>). The price is quite high, but compared with its features, you have to consider it even as cheap - given of course, you make use of all the features. Add up the prices for a web camera, an MP3 player, a voice recorder, an ebook reader and a wireless email/web station only, then you'll know what I mean. And then you have no PDA yet :). Yes, surprisingly the NR70V holds also all your addresses, appointments and notes and is able to present them on its superb screen as no other PDA can do. The battery life is ok, not great but not poor either. We have to make a choice nowadays - either you want all the bells and whistles, then you have to pay battery life for it. If you need as much battery life time as possible for an address book only, get a Zire that's spartan enough to spare even the backlight :).
If you want to spend the $540 (street price, list is $599) for the new NX70V, there's hardly a reason to buy still an NR70V. Only two things come to my mind: The battery life with the new 200MHz CPU might be gone down again (I'll check that once I have an NX70V) and the CF slot makes the unit slightly bigger (though, only in the top part). Then again, if you look mainly at the HighRes+ screen, the keyboard, the MP3 player or other goodies the NR70V had already, you might be able to get an NR70V for a bargain on ebay or such. And there's another thing to consider with the new NX70V. It runs on OS5 which is a much bigger step than the version number tells. Native OS5 apps have to be written (or rather compiled) for the ARM kernel and old OS4.x apps just don't run on the new CPU. Of course OS5 comes with an emulator for Dragonball apps and older apps which are 'properly' written according to the API should work. But we all know, an emulator is never like the 'real thing' and we know also, how annoying it is, if your favourite app of all apps is the one, the emulator doesn't like. Sure, major apps like datebk or such will be soon available (or already?) for OS5. But other apps - and I know what I'm talking about <g> - are written by people that are no longer in the 'Palm coding business' and there won't be updates anymore. No, I really don't vote against OS5 - it was about time that the Palm world catches up with WinCE and it's multimedia capabilites. I'm just considering ... :) ...
.
And all in the end, let me introduce you a discovery I made not very long ago. It was truly one of these moments, you think you hit the jackpot :). I have to say first that for far over 10 years now I'm using an HP calculator for my daily work, engineering as well as making my tax declarations. It's an HP48 and I love it, mostly of course because I'm so used to it. I'm also a true UPN lover, and I'm used to that system as well. On the other hand, I was still searching for a nice calculator on my Palm - excuse me if I don't consider the supplied PalmOS calculator app as a true choice. And last not least, I had that beautiful NR70V LCD, which hardly any app made use of ... and then I found IT:
.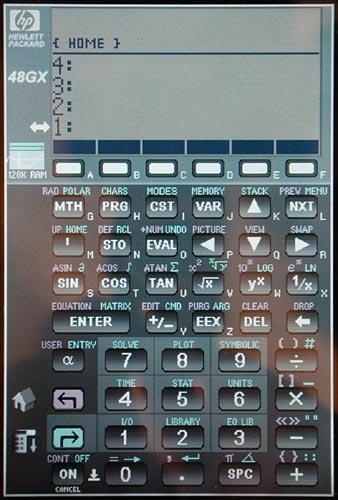 .
What you see above is a real screen shot (no POSE, true image of my device) of the ultimate HP48 (SX or GX, selectable) emulator. I had to offer the highres version of the image too, because it is so beautiful. Just click on the image as on most of the images on this page. It's called 'Power48' and written by Robert Hildinger. It is free (under GNU license) and available brand new as of Oct. 14th, version 0.9 beta. But believe me, that beta is much better than alot of release versions - on my Clié it works so far flawless. The bad news first: There is a website for Power48 at www.mindspring.com/~hildinger/Power48, but when I wrote that review and tried to look up the page, I got a strange message that the bandwidth of that particular page has exceeded for this month (Nov 2002). Hopefully that super app will get an appropriate home soon!


UPDATE Nov 2004

: It HAS a new home! You'll find it all on http://www.mobilevoodoo.com .
.
But back to the app: Power48 is a true emulator, emulating the proprietary 'Saturn' CPU used in the HP48 on the Dragonball. Consequently, you need to load also the ROM images of the HP48, which you can get on www.hpcalc.com. Because of the perfect emulation of the Saturn CPU, you won't miss anything you know from your real HP48 - Power48 is working like the real thing. The only detail I missed is the infrared port on the HP48 (to talk to a printer for example), but the documentation of Power48 shows that issue as already 'in work'. After all it's only a beta so far. The speed of the emulator is great and just a tick slower than my real HP48SX (which is not the fastest calculator from that series). But the author talks already about the new NX70V with OS5 and the ARM CPU. Best, I quote the 'whole' FAQ here which consists so far of the following two questions only:
.
Q1: Do you currently support, or have plans to support other devices?
A1: The reason Power48 supports only Sony Cliés is that at the moment they are the only ones that have the necessary processing power, high-resolution screens, and high-resolution API's. As of this writing no other Palm device has all of these three items. There doesn't seem to be any reasonable way to provide an HP48 button interface on a screen with 160x160 resolution. You, however, are certainly welcome to try! If you can come up with a way to do it that doesn't involve massive scrolling, then perhaps Power48 can be updated for this class of device.
.
Q2: Do you plan to support OS 5?
A2: And how, baby! The core of Power48 is a major candidate for conversion to ARM native code, and when that happens the speed of Power48 should easily exceed the real thing. Since OS5 includes a native high-resolution API, it satisfies my conditions from Q1 above.
.
Does that sound promising? I think so and I can't wait to see Power48 progressing. It was, as I mentioned, a real nice moment to discover such a well done, high sophisticated, FREE app in our money driven world with meanwhile much too much crap for much too much money! If you happen to own a high-res Clié, check out Power48 for yourself!
.